Vetus marine engines
An essential part of recreational boating is a carefree attitude. An important part of this peace of mind is a reliable marine engine that starts reliably and gets you there. Comfort and convenience are also an important part of yachting. It is these things that we have paid particular attention to VETUS in marine engines. Whichever VETUS engine model you choose, it will be your faithful workhorse for years to come.
No marine diesel works on its own. That's why we have a complete range of reliable and compatible engine mounting accessories, from propeller to exhaust system.
We offer the buyer of the engine other boat accessories and shaft parts, e.g. our high-quality Mepra propeller shafts made to order at a special price, with a special discount.
Ask for a quote for the engine and axle package by contacting our sales department.
M-LINE12 - 52 hp (8.8 - 38.3 kW)
Vetus' M-Line marine engine range is undergoing a major overhaul, although engine power remains the same. The aim has been to improve
comfort, safety, serviceability and, of course, looks.
M2.13
Technical specifications
Power DIN6270B (hv/kW)
12/8.8
Max speed (rpm)
3000
Cylinder number
2
Cylinder calc. X Stroke length mm
76 x 70
Displacement (cc)
635
Electrical system (V/A)
12/75A
Cooling system
freshwater
Weight with marine switch
107 kg
Cable harness length
2m
Shutdown
mek./sähk.
Instrument panel model:
MP10B12
Rubber cushion model (supplied with the machine):
KSTEUN25V
M2.18
Technical specifications
Power DIN6270B (hv/kW)
16/11.8
Max speed (rpm)
3600
Cylinder number
2
Cylinder calc. X Stroke length mm
76 x 70
Displacement (cc)
635
Electrical system (V/A)
12/75A
Cooling system
freshwater
Weight with marine switch
107 kg
Cable harness length
2m
Shutdown
mek./sähk.
Instrument panel model:
MP10B12
Rubber cushion model (supplied with the machine):
KSTEUN35V
M3.29
Technical specifications
Power DIN6270B (hv/kW)
27.2/20
Max speed (rpm)
3600
Cylinder number
3
Cylinder calc. X Stroke length mm
76 x 70
Displacement (cc)
952
Electrical system (V/A)
12/75A
Cooling system
freshwater
Weight with marine switch
134 kg
Cable harness length
4m
Shutdown
mek./sähk.
Instrument panel model:
MPA22BS2
Rubber cushion model (supplied with the machine):
KSTEUN40A
M4.35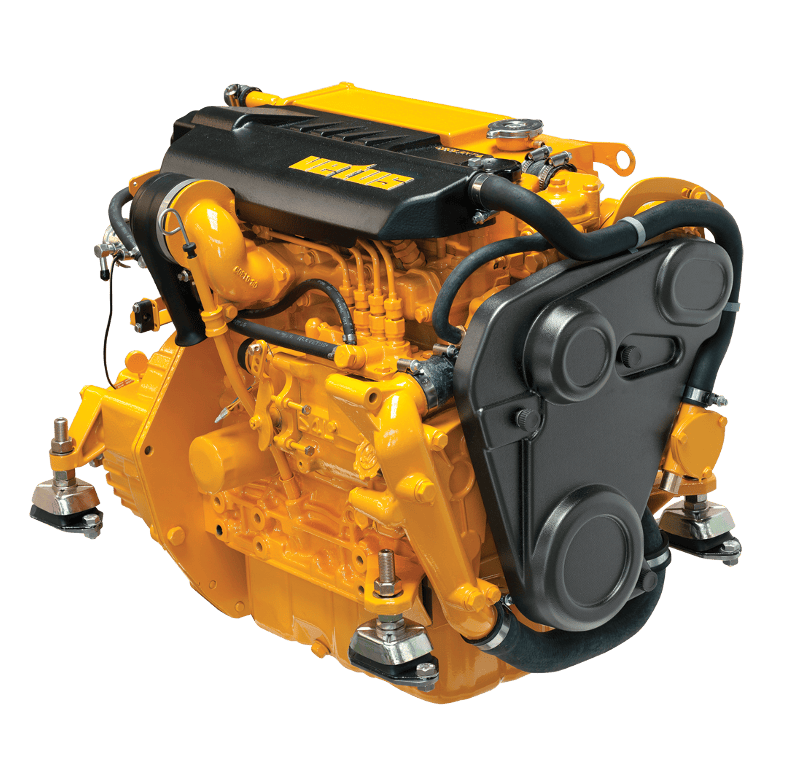 Technical specifications
Power DIN6270B (hv/kW)
33/24.3
Max speed (rpm)
3000
Cylinder number
4
Cylinder calc. X Stroke length mm
78 x 78.5
Displacement (cc)
1758
Electrical system (V/A)
12/110A
Cooling system
freshwater
Weight with marine switch
199 kg
Cable harness length
4m
Shutdown
mek./sähk.
Instrument panel model:
MPA22BS2
Rubber cushion model (supplied with the machine):
KSTEUN75V
M4.45
Technical specifications
Power DIN6270B (hv/kW)
42/30.9
Max speed (rpm)
3000
Cylinder number
4
Cylinder calc. X Stroke length mm
78 x 92
Displacement (cc)
1758
Electrical system (V/A)
12/110A
Cooling system
freshwater
Weight with marine switch
199 kg
Cable harness length
4m
Shutdown
mek./sähk.
Instrument panel model:
MPA22BS2
Rubber cushion model (supplied with the machine):
KSTEUN75V
M4.56
Technical specifications
Power DIN6270B (hv/kW)
52/38,3
Max speed (rpm)
3000
Cylinder number
4
Cylinder calc. X Stroke length mm
78 x 92
Displacement (cc)
1758
Electrical system (V/A)
12/110A
Cooling system
freshwater
Weight with marine switch
206 kg
Cable harness length
4m
Shutdown
mek./sähk.
Instrument panel model:
MPA22BS2
Rubber cushion model (supplied with the machine):
KSTEUN80V